About This Product
Lemon Curd Cake is a SUGAR- FREE, GLUTEN FREE, LOW CARBS, DIABETIC FRIENDLY, KETOGENIC cake, for you to enjoy sweet tooth with guilt-free.
It's known for its vanilla sponge cake layers and lemon curd layered on every single layer. The whipped cream frosting gives it a light mouthfeel.
This base made with almond flour and coconut flour, this moist and chocolate rich cake is the BEST low carb. Natural monk fruit sweetener with erythritol to give the joy of sweetness.
What is monk fruit sweetener and erythritol?
Monk fruit sweetener is a natural sweetener extracted from monk fruit, zero-calorie sweetener as it does not contain fructose and glucose.
Erythritol naturally found in fruits and some fermented foods. It is only 65% as sweet as sugar.
Both are frequently recommended to people with diabetes as an alternative to sugar-sweetened foods and beverages; they are also recommended as a way to help these individuals satisfy their desire for sweet taste while managing carbohydrate intake.
Cake Details
🍰 6-8 / 8-10 slices 🎂 6 inch / 8 inch
⚖ 0.5 / 1 kg +/- (each) 🕑 2 days pre-order
Ingredients
Dairy cream, egg, monk fruit sweetener with erythritol, lemon, almond flour, corn oil, unsalted butter, coconut powder, vinegar
Allergy Information
Contains egg, tree nuts and dairy
Storage Instructions
Please keep the cake refrigerated (0-4 °C) after collection and allow the cake to sit at least 3-5 minutes before serving. The cake can be refrigerated for maximum 2 days however it's advisable to consume within the day of purchase.
Item provided with your order
Candles, insulation bag, cake knife, gift card (if needed)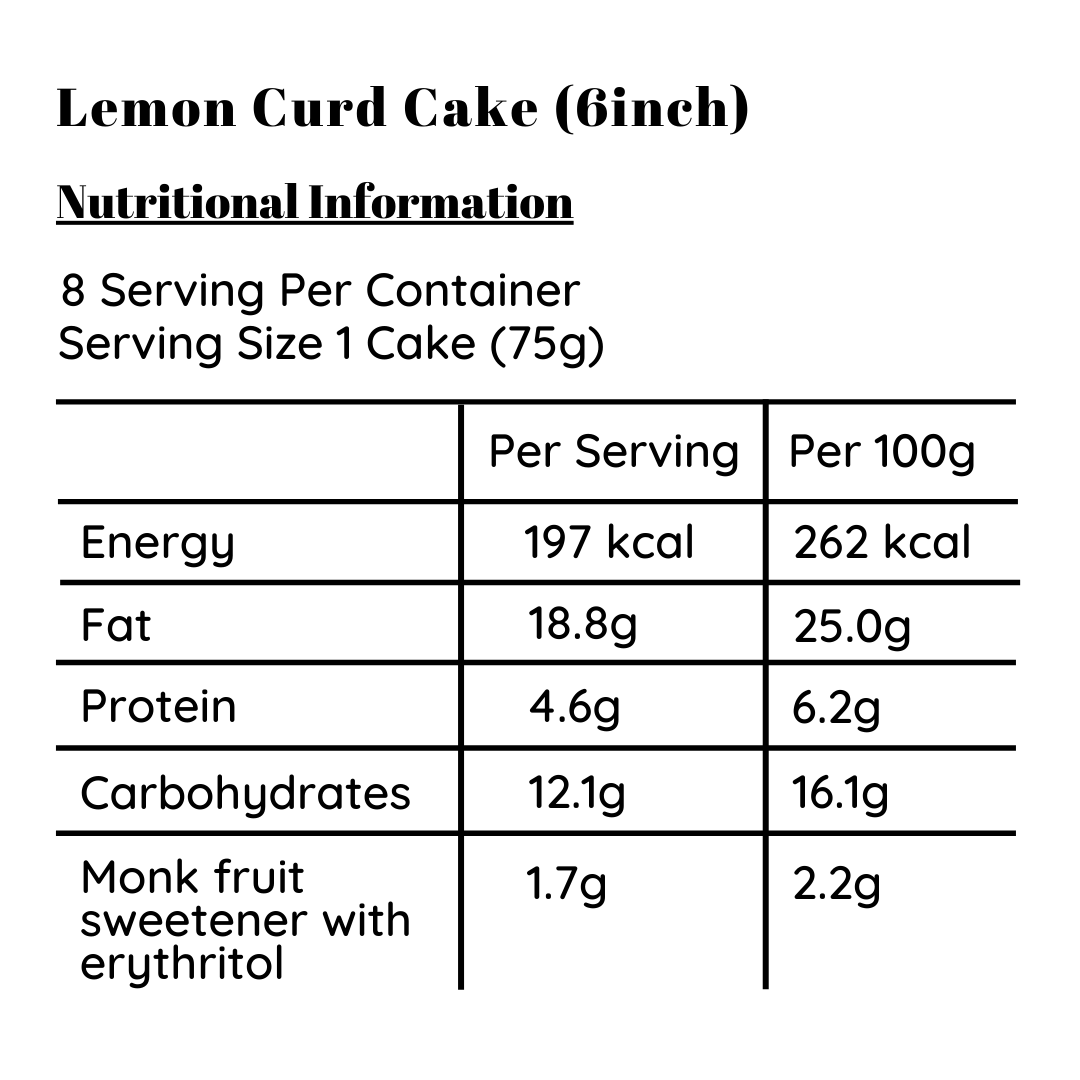 Powered by Froala Editor